Marriage Help Online

Looking for marriage help but not sure where to begin? There are many helpful resources you can use to strengthen your relationship or to heal a troubled marriage. It can be daunting, however, to find the best sources of information. There are currently a number of high quality marriage self-help products and e-books available online. The courses and e-books I recommend below offer sound principles for strengthening or renewing your marriage.
Audio/Visual or Tele-Conference Home-Learning Programs
Fix Your Marriage. New Alternative to Counseling. Marriage Fitness with Mort Fertel.



Mort Fertel knows how to heal marriages. He is a recognized expert on revitalizing and building strong relationships. Unsatisfied with the current state of marriage counselling as a whole, he believes couples need to learn to step away from their problems and learn to connect with each other through consistent positive actions.

The Marriage Fitness system he developed is an alternative to marriage counselling that focuses on restoring love and positive energy to the relationship.

For a price roughly equivalent to three sessions with a marriage counsellor you can have access to a complete home-learning package that includes 15 audio CD's you can listen to at home or on the way to work, a comprehensive Marriage Fitness workbook and personal journal, access to teleseminars with Mort Fertel and live Q&A teleconferences, and more.
He also offers free relationship assessments, and over fourty free articles to help you strengthen your marriage. This is an excellent site and resource.You don't have to make a purchase to benefit from this site. I highly recommend signing up for his free emails and relationship assessments, as I did. Click here to sign up. I found the ideas in his emails were practical and insightful. Many of them were real gems. Each one ends with an invitation to sign up for his program, but there's no obligation to do so.
The Us Factor: Simple and Powerful Skills to Bring You Closer Together
I recently reviewed a new program for couples called the Us Factor, by Joseph Melnick, Ph.D.

This is a helpful new program for couples who want to feel closer and more connected to each other and to learn the skills necessary for creating a strong relationship.

The Us Factor program is a DVD-based course for couples at all stages of a relationship.

The goal of this program is to help couples learn essential skills for nurturing love and creating a strong, vibrant bond  together.
Dr. Joseph Melnick teaches these skills through a variety of learning methods--video demonstrations, reading short workbook chapters that support the video, and hands-on exercises that you and your partner can do together.
The course consists of 12 DVD's, each one about fourty-five minutes long, with a companion workbook for use as a supplement to the DVD's.
For the full review click here.
---
Downloadable E-Books (Generally between $50-100 USD)

Save the Marriage with Dr. Lee Baucom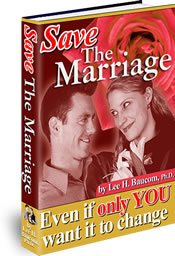 When your marriage is in crisis it can be very difficult knowing what to do and where to turn. You may be receiving a lot of conflicting advice and it may seem that the harder you try to keep things from getting any worse the worse things get. For over 15 years Dr. Lee Baucom has been offering marriage help to couples. His approach is like a road map that leads the way through the confusion and helps couples to transform their marriage, even when there is only one person wanting to work on it. You can download his e-book, Save the Marriage, in ten minutes and begin to work on shifting the momentum of your relationship today.

Click here for my review of the "Save the Marriage" ebook.




Affiliate Disclaimer: Some of the links to resources listed on this site are affiliate links, including the resource listed on this page. This means that if you click on a link pointing to a vendor on this page and you subsequently purchase any product from that vendor, Cobb & Associates Inc. will receive a percentage of that sale. Please know that we will only review and recommend products that we feel are of high quality and value to the reader. If any product we find on the internet is not of high quality it will not be reviewed on this site. Cobb & Associates was not offered this product for free in exchange for a review. Affiliate commissions are one method we use to offset marketing costs and are not a significant source of income for Cobb & Associates.