The Marriage Quiz
Welcome to the Marriage Quiz, a relationship self-help test that assesses eight important dimensions of a healthy relationship.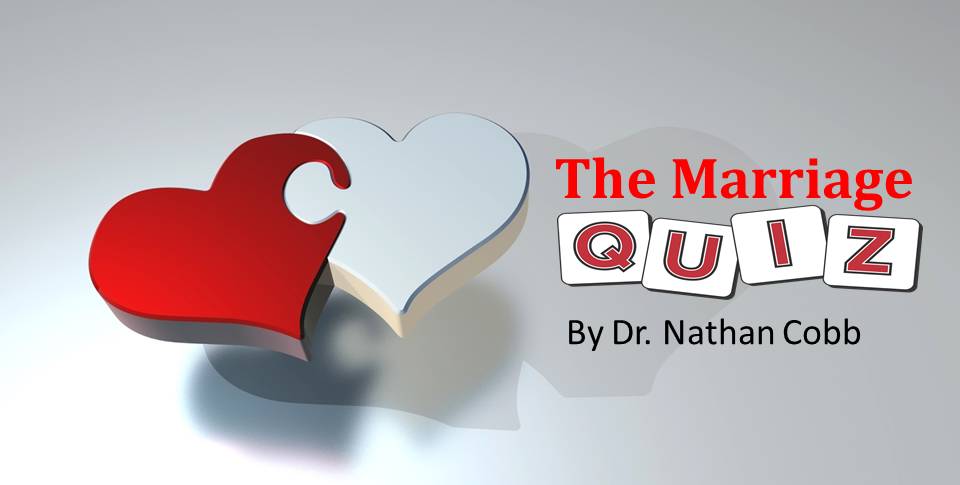 A strong marriage is based on a foundation of trust, love and respect, mutual friendship, as well as the ability to successfully handle the inevitable differences that occur when two people unite their lives. 
When your relationship is going through a rocky time, it can be difficult to gauge where, precisely, the problems lie and what to do about them. Completing the Marriage Quiz with your spouse is a good first step in raising awareness of where to begin the work of improvement.
Developed by Dr. Nathan Cobb, the Marriage Quiz is a 144-item, paper-and-pencil, self-report questionnaire designed to help couples increase their awareness of their relationship strengths and work areas. It consists of 16-pages, including instructions for scoring and interpretation, as well as exercises that help you and your spouse discuss your responses to the items and identify ways that your relationship can be strengthened.
The Marriage Quiz highlights which of these dimensions are currently strengths in your relationship and which ones may be work areas. It is designed to facilitate discussion between you and your partner and to aid you as work toward improving specific aspects of your relationship.
Take a look at a specific part of the Marriage Quiz to see if it might be right for you by clicking here to download a free sample showing one of the eight dimensions, specifically conflict management. 
Otherwise, please click on the "Add to Card" button to download the full version to your computer for your Personal Use.
Join thousands of people who have already downloaded the Marriage Quiz to help them improve their marriage. 

If you are in the helping professions and are interested in offering the Marriage Quiz to your clients, please feel free to purchase a Professional Use License, as outlined below.
Personal Use License - $5.00 USD
Allows you and your spouse or partner to download the Marriage Quiz for your personal use. 

Click on the "Add to Card" button to order today!

Professional Use License - $45.00 USD
If you are an individual in the helping professions, the one-time Professional Use License fee offers you the ability to print an unlimited number of copies of The Marriage Quiz for in-person distribution to your clients. 
Under the terms of the Professional Use License, you may not: 1) sell the questionnaire (if you are charging a fee for group therapy, the questionnaire may be included in a handout for the group, as long as you are not charging a fee for the questionnaire itself), 2) alter the content or format of the questionnaire in any way, 3) re-brand the content under your own name, or 4) place it in an electronic delivery system, such as a website, public network hard drive, e-book or a print book intended for sale.
Click on the "Add to Card" button above to order today!

Found The Marriage Quiz helpful? Please leave your comments or feedback here.
If you found The Marriage Quiz helpful, please consider writing a short review to help others know if it is right for them. You need not disclose your name or location.