The Us Factor Review

The Us Factor, by Joseph Melnick, Ph.D., is an exciting new program for couples who want to feel closer and more connected to each other and to learn the skills necessary for creating a strong relationship.
Sit Back and Watch from the Comfort Of Your Living Room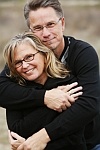 The Us Factor program is a DVD-based course for couples at all stages of a relationship. The goal of this program is to help couples learn essential skills for nurturing love and creating a strong, vibrant bond together. Dr. Joseph Melnick teaches these skills through a variety of learning methods--video demonstrations, reading short workbook chapters that support the video, and hands-on exercises that you and your partner can do together.
12 DVD's and a Workbook

The course consists of 12 DVD's, each one about fourty-five minutes long, with a companion workbook for use as a supplement to the DVD's.

The format of each DVD combines in-depth discussions, between Dr. Melnick and his associate, that teach vital relationship skills in a straight-forward, yet thought-provoking way. The videos also include vignettes of Dr. Melnick working with couples in ways that powerfully support and illustrate the principles being taught.

The written materials and exercises in the workbook then further build on each DVD lesson. The exercises are primarily designed for you and your spouse to do together, but they can also be done by only one spouse.

It's Like Having a Couples Therapist In Your Home

One of the benefits of the Us Factor is that it can be done in the comfort of your home and you can learn at your own pace. The vignettes in the DVD's offer the opportunity for couples to learn from observing other couples.

Seeing other couples facing similar problems as you, seeing them making noticeable shifts in their attitude and communication, and seeing them reconnect with each other can give you a lot of hope and confidence in your own ability to do the same.

You can begin to apply the skills soon after reviewing the DVD's. You can begin to re-connect and re-ignite the good feelings and positive communication you once had.

Click here to learn more about The Us Factor program
Engaging and Easy to Follow

This is a user-friendly program with very little psychological jargon. Dr. Melnick both speaks and writes in an easy, soft-spoken, conversational style. He has a knack for expressing himself in a way that goes to the heart of the matter, offering useful, practical gems of knowledge and useful tools that have that "rings-so-true" quality.

Who Is It For?

The Us Factor is billed as "simple, powerful skills to bring you closer together." This program is for anyone looking for ways to strengthen their communication and feel closer and more connected in their relationship.

It will likely appeal to couples who would otherwise not see a couples counsellor either because of the expense associated with months of therapy or because they feel reluctant to expose their relationship troubles to a stranger.

The Us Factor will probably also appeal to couples who are looking for "homework" or supplementary exercises to support their marriage counselling sessions.

What it Teaches You

In The US Factor DVD's and workbook, Dr. Joseph Melnick will show you specifically how to:
Have meaningful, real conversations that allow you to connect with each other, feel heard and understood, move past hurt and resentment, and resolve disagreements.


Recognize common patterns and habits that create communication problems and how to break free of these patterns to create more relationship growth, learning, curiousity and hopeful possibilities for your relationship


Learn essential skills and attitudes that allow you to nurture love and respect for each other


Work through feelings of resentment and disappointment in your relationship


Enhance or rediscover your sensuality, excitement and emotional connection in your sexual intimacy as a couple.


Deal with money and parenting issues constructively


Revive your marriage, get out of a rut and re-connect with each other


Enhance or regain your feelings of love and closeness as a couple

No-Risk, 30-Day Trial

The Us Factor offers a 30-day, free trial. So you are free to try it in your home and judge for yourself.


Create and Maintain a Successful, Long-Term Relationship

As Dr. Melnick says, you do have options. Divorce and unhappiness are not the only choices open to you. This course will help you on your journey in learning how to create and maintain a successful, long-term relationship.
Click on the image below to see for yourself.

Send Me Your Own Review

Given that this is a relatively new program, I would love to hear your feedback about how it worked for you. If you decide to purchase, please let me know how it helped you and whether you would recommend it to others. You can use the feedback form here to let me know.
Affiliate Disclaimer: Some of the links to resources listed on this site are affiliate links, including the resource listed on this page. This means that if you click on a link pointing to a vendor on this page and you subsequently purchase any product from that vendor, Cobb & Associates Inc. will receive a percentage of that sale. Please know that we will only review and recommend products that we feel are of high quality and value to the reader. If any product we find on the internet is not of high quality it will not be reviewed on this site.  Affiliate commissions are one method we use to offset marketing costs and are not a significant source of income for Cobb & Associates.